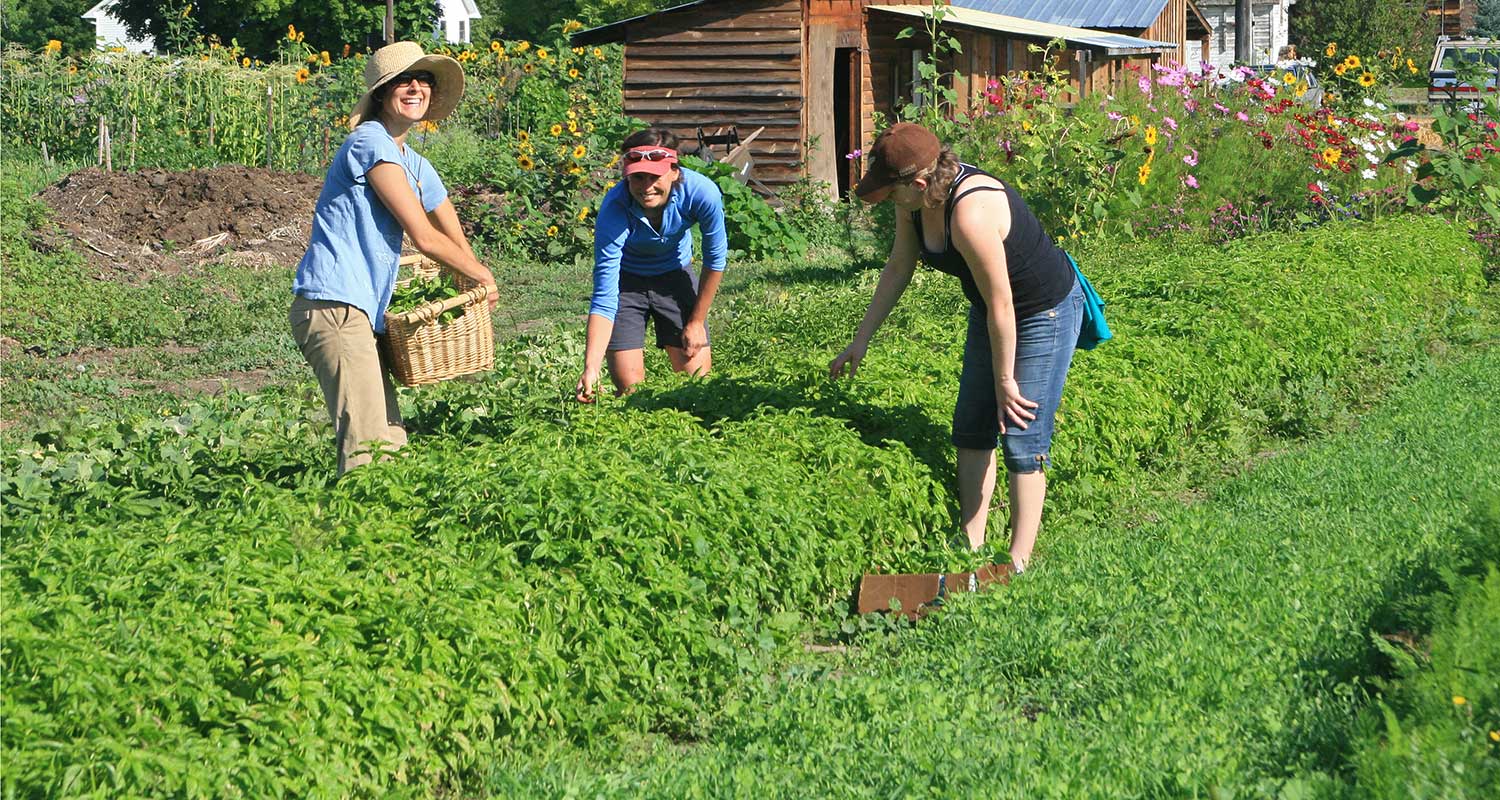 Volunteer Workdays for Businesses and Organizations
Pitching in at our farms and gardens builds teams, strengthens relationships, makes memories. It is a great opportunity for any group to get to know each other in a new and fun environment.
Please contact Ruth (ruth@gardencityharvest.org | 406.523.3663) at the Garden City Harvest office to sign up for one of the following options:
Neighborhood Farms
Overview
Come take an adventure with Garden City Harvest and see the tangible results on the spot. You will help our Orchard Gardens farm manager, Clare, or our River Road farm manager, Greg, make nutritious, fresh produce available to everyone, regardless of income. You and your group will unplug, move around outdoors, breathe fresh air, and connect in a different light—all while learning about and contributing to our transformative and empowering work that's happening in your community.
Options
For the 'Full Season Cycle,' we ask our volunteers to commit three days a season to Orchard Gardens or River Road. This allows your group to follow the veggies from seedlings to delicious produce distributed directly to community members in need. In our early season, you will help plant our produce (April/May). During mid-season, you will help with the daily maintenance of the growing veggies (June/July). At the end of the season, you will help harvest this beautiful produce for delivery to the Missoula Food Bank or Poverello Center (August/September). This option offers our volunteers a glimpse of a full season on our farm and allows active participation in the provision of emergency food staples to the Missoula Food Bank and Poverello Center.
Spend one day (2+ hours) on the farm digging in the dirt and taking in fresh air - all while helping community members most in need.
When your group volunteers at our Orchard Gardens farm for a minimum of four hours, there is a fresh farm lunch available upon request and for a small charge. If interested, please ask Ruth for more details.
Farm work days generally occur on Tuesdays, Wednesdays, and Fridays from May-October.
Community Gardens
Overview
Whether digging in for 3 days or half of one, work depends on the season -- ranging from weeding, turning compost, plot clean up, painting, planting, or just digging in the dirt. By attending one of these workdays you will work alongside the community gardens team and get a sense of each gardens' unique personality. Get to know your Garden City and learn how community gardening brings hope, happiness, and healthy food to so many in our community.
Options
Around the Garden City: Commitment: 3 days (scheduled anytime May-October)

Lend a Hand: 1 workday lasting 2+ hours