Community Garden Spotlight: Meadow Hill
Meadow Hill Community Garden was originally built in 2006 as a community garden and a school garden for Meadow Hill Middle School. Although it now functions mostly as a community garden, it is the oldest school fruit and vegetable garden in Missoula.
On paper, highlights include: school garden plots, outdoor classroom, raspberry patch, fruit trees, gazebo and community gathering space (with a fire pit!)" Meadow Hill Community Garden has 45 plots feeding over 108 people this year.
And yet, Meadow Hill Community Garden is SO. MUCH. MORE!
Within your first five steps into the community garden, you can feel the community spirit of the place. The communal flower plot, the fruit trees and a raspberry patch greet you at the entrance. Each is labeled with a whimsical hand painted sign: "Care and Share" or "Berries to Share."
This community garden has five fruit trees: apple, apricot, plum, and peach. They share a strawberry patch and three separate raspberry patches that deliver bumper crops year after year. The leadership committee also organizes work days to plant, weed, and tend the four (or more!) other communal plots with a variety of annual vegetable crops that are shared among all the gardeners.
Meadow Hill Community Garden has a high percentage of young families so you can always count on finding at least one small set of helping hands.
The garden is so successful thanks to the three women who make up the garden's leadership committee. These three women--Erika, Debra, and Karen--are gardeners who also volunteer their time to put "community" in their community garden. In addition to keeping a general eye on things and serving as a friendly resource for gardeners, they also organize monthly work days, potlucks, and an annual scavenger hunt.
Photo right shows Erika and Karen with a couple gardeners getting their hands dirty at last Sunday's work day.
I asked Debra and Erika to tell me a little bit more about how they got involved as gardeners and what they love about it.
What have you found to be most rewarding about being a community gardener?
Debra: The rewards are many: meeting people, gaining garden knowledge, sharing the bounty.
Erika: Being a part of the community with yummy garden goodies to go along with it.
How did you first learn about Meadow Hill Community Garden or the community garden program in general?
Debra: I have followed the growth and evolution of the community gardens since the first one went in on the Northside. I've attended many workshops sponsored by Garden City Harvest, participated in the CSA program, and accessed the informative website for years. I joined the Meadow Hill Garden three summers ago when the deer population in my yard outpaced my food production capabilities.
Erika: My parents have been gardeners at ASUM [Community Garden] for years and when I moved back to Missoula after college, I wanted to get my hands dirty as well. Living in an apartment did not give me much space, so I signed up for a community plot. Now, I get strawberries and veggies to last me most of the summer, and garlic for the whole year!
What do you think is the most challenging thing about being a community gardener?
Debra: Nothing is super challenging, but I do get cranky when other gardeners don't contribute and/or don't follow the rules :)
Erika: Finding time to water and weed in my already busy life, but when I do, it is worth it!
What's your favorite vegetable, fruit, or flower to grow?
Debra: I love sweet peas. The colors and the perfume are delightful.
Erika: Strawberries!
What has been your favorite dish that you have prepared or that you have eaten at a potluck?
Debra: One of the gardeners brought something made with garlic scapes. So yummy.
Erika: I made a spinach leak dip straight from my garden this year, the only thing that was store bought was the dairy!
What is the best advice you can offer other gardeners?
Debra: Montana summers vary so much in temperature and precipitation that you can not expect your crops this year to behave the way they did last year. Some years, the cool season vegetables will thrive. Other years, you won't get peas but the tomatoes will be luscious. Celebrate what you get and plant again next year!
Erika: Keep at it! The more work you put in, the more your garden will benefit.
If you can't make it over to check out the garden yourself, here are some pics!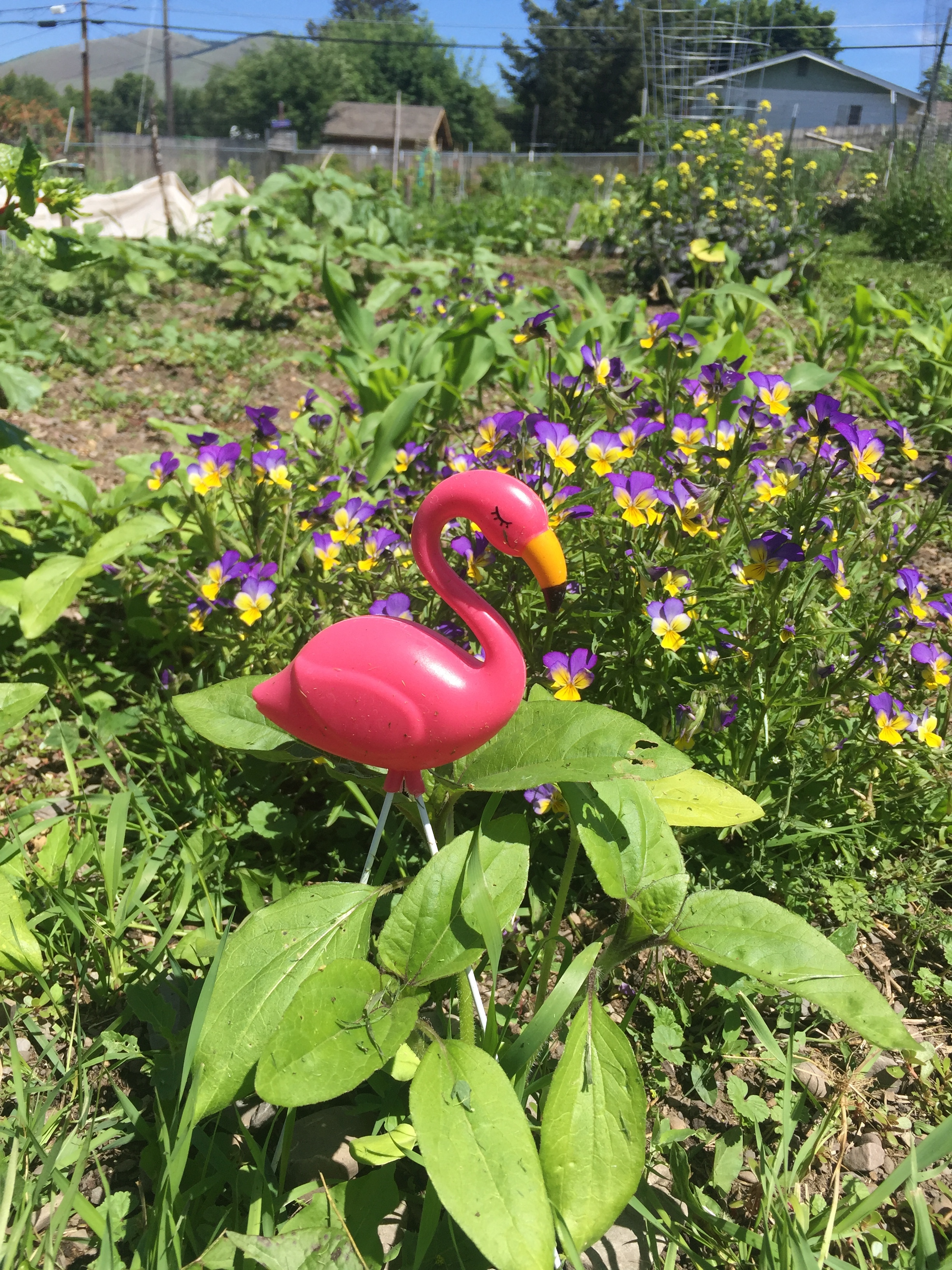 Don't have a community garden plot? We are always accepting applications!